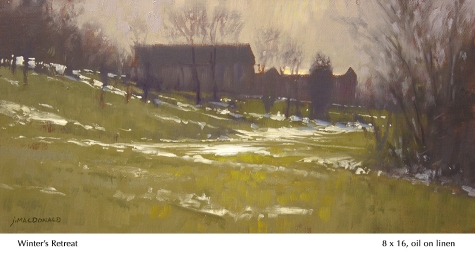 Friday-Sunday, September 11-13, 2020 9:00am—4:00 Tuition: $600
We are thrilled to be able to offer artists an opportunity to study with John MacDonald during the beautiful month of September. Covering the basics of painting outdoors, John will explore all aspects of the materials and methods of painting on location.
John's Teaching Philosophy
My teaching philosophy is simple: it's all about you. I'm not interested in teaching you to paint like me. My sole concern is helping you to discover what it means to paint like you, to help you become a more skilled artist as you develop your authentic voice. I teach the craft and the art of painting; the craft based on my 30-plus years as a painter and illustrator and the art from my experience as a creativity coach.
The craft entails the nuts and bolts of the visual language: value, composition, drawing, color, edges, details, variation, pattern, etc., seeing the basic structure of a landscape while learning to thoughtfully and skillfully choose which elements to include in one's painting and which ones to leave out. I emphasize proper seeing—looking closely at the existing color and tonal relationships—and then understanding and manipulating what is seen.
The art is about discovering your authentic voice and developing self-awareness as an artist. We learn to paint by painting. If we wish to increase our skill level there is no substitute for putting in long hours in the studio. But fear, perfectionism, the need for approval, the aversion to risk-taking—all of these can inhibit our willingness to paint. The ability to deal skillfully with these issues is as important as the ability to know how to mix the right color.
To Register: Contact Penelope Simpson VillageArtsofPutney@gmail.com or call: 802-246-7742.