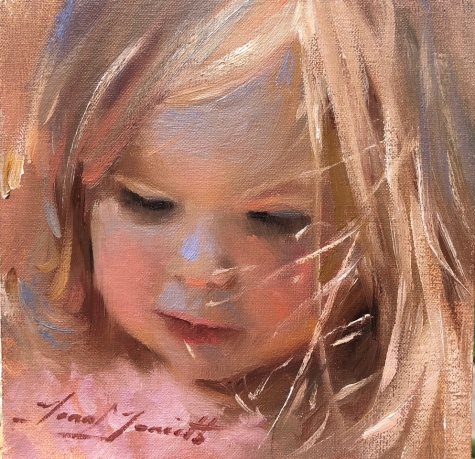 Friday-Sunday, March 6-8, 2020 9:00am—4:00 Tuition: $475
Village Arts of Putney is excited to host a three day "Secrets To Painting Children In Oil" with ARC Associate Living Master, Tina Garrett. If your portraits of children look too old, flat or unbelievable, you have to take this workshop!
Student Testimonial:
"This is far and above the best painting workshop I have ever attended! Tina's approach to teaching and her method is so understandable, I feel like I can take the information home and improve my painting immensely. She is so forthcoming with her knowledge and very approachable. I hope to have many future opportunities to learn from her." — Debra Butler, Colorado
Learn to:
• Take great reference images of squiggly, giggly kids without expensive, complicated camera equipment or lighting.
• Identify, consolidate and create an accurate value pattern
• Build a beautiful flesh tone palette
• Achieve accurate drawing and therefore a likeness to your subject
• Paint beyond your photo reference and make a work of art
Tina started oil painting in 2012 and shares with her students the practical methods she uses in her award-winning portraiture to help artists make the best paintings they've ever made. Tina is a two-time ARC Salon Purchase Prize Winner, three-time Oil Painters of America Online Showcase awardee, an International Artist Magazine People & Figures Grand Prize winner and a proud Portrait Society of America Cecelia Beaux Forum Mentor and will join the Staff at the International Art of Portrait Conference in Orlando in 2020.
To Register: Go to Tina Garrett's website at: https://artisttinagarrett.com to register. Ph: 826-739-5508