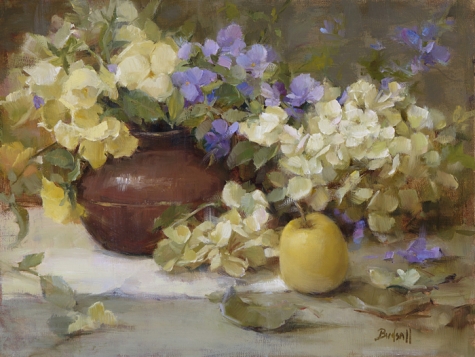 Thursday-Sunday, May 17-20, 2018 9:00a.m. —4:00p.m. Tuition: $550
Stephanie Birdsall is a longtime member of the Putney Painters, founded by Richard Schmid and Nancy Guzik. Her paintings in oil and pastel are based on Schmid's color charts, featured in Richard's book, "Alla Prima II: Everything I know About Painting."
This excellent workshop is designed for semi-beginners and seasoned painters who wish to take their paintings to the next level, whether they work in oils or pastels. Stephanie's gift is to take the fear out of painting and encourage you to gain clarity in what your current personal goals are—and what it is you want to paint. Begin by choosing to paint what you love. Students are invited to bring things they love or are inspired by—flowers or objects, or both. Stephanie will assist in the still life set ups and instruct students on how to look for the rhythm and fall of light on the subject. (There will also be flowers and objects in the studio as well!).
You will learn to analyze what you're looking at and experience the magic of honing technical skills to shape your vision, that impulse that arises in your artist's heart onto your canvas and into the world. This is soul food for the aspiring artist.
Each morning, Stephanie will present different ways to start a painting so you have choice over how you start in the first place. Learn how Stephanie starts her paintings with the clear idea of what she wants it to become; it is different every time. The subject often dictates how to begin.
Along the way, Stephanie can help you to break your painting process down and identify obstacles or fears by asking yourself a few simple questions. These questions are about color, value, edges, drawing, composition and painting what you see, not what you think you see. There will be opportunities to learn her quick, 25-stroke painting exercises to warm up and practice intentional brush strokes and color before each painting session.
If there is something you have been really wanting to paint, or something that is challenging and you wish for support in how to make it sing, bring it with you. Part of the magic of painting is making it what you want it to be..
To Register: Penelope Simpson villarts@sover.net or call: 802-246-7742 .