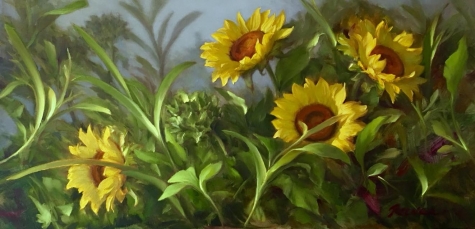 Painting Beautiful Flowers with Diane Reeves
Friday-Sunday, June 28-30, 2019 9:00am—4:00pm Tuition: $375
It's so enjoyable to paint an assortment of beautiful, fresh flowers with confidence and excitement! Diane Reeves, an award winning artist and seasoned instructor, is particularly known for her vibrant paintings of fresh flowers - and she's excited to help others create their own gorgeous floral paintings.
During this workshop, Diane shows participants how to quickly recognize and capture the basic form of assorted flowers, how to maintain lovely color in both light and shadow, and how to choose specific brushwork to create lifelike flowers. Diane demonstrates ways to keep values accurate, as well as how to achieve lovely edges and gorgeous translucency for petals and foliage. Each morning focuses on specific lessons and a painting demonstration, including roses, hydrangeas, and gardens. The afternoons include plenty of one-on-one assistance as students practice what they are learning by painting floral set ups.
Diane's engaging teaching style, clear explanations and valuable demos make learning both straightforward and enjoyable. Diane's goal is for every participant to leave with a new confidence for painting his or her own beautiful flowers!
Beginning as well as advanced painters are invited to attend this workshop, though some basic prior painting experience is helpful.
To Register: Contact Diane Reeves directly at <dianereevesfineart@gmail.com>