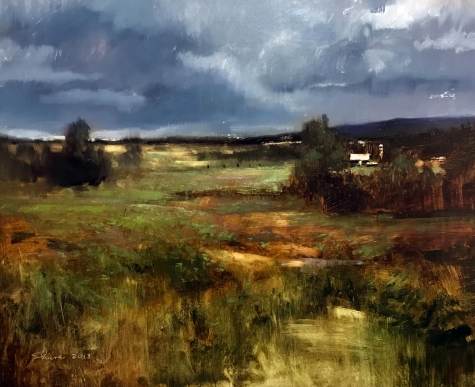 Friday-Sunday, June 12-14, 2020 9:00am-4:00pm Tuition: $350
Come experience fearless plein-air painting where your anxiety will be checked at the door! We heartily welcome Vermont Plein Air artist, Shane Harris, for three days where students will learn to capture the Vermont landscape of rolling hills, quaint farmscapes, and small towns.
This workshop is different because the emphasis of trying to complete a finished painting 'on-location' is removed, since that is where most of the anxiety for inexperienced plein-air artists often lies. Shane says, "I can demonstrate where a two hour, plein-air start can evolve into a finished painting that still maintains the essence of the plein-air experience."
The focus of this workshop will demonstrate capturing the composition, the color, light and the initial feeling which drove you to choose a particular scene to paint. Shane will demonstrate a variety of practical and easy to grasp techniques to facilitate painting outdoors—whilst easing the anxiety that some artists experience when trying to tackle what can feel overwhelming outdoors. Prioritizing the truthful recording of a scene, it's color, lighting and emotion will be the priority. Artists will join Shane back at Village Arts barn at the end of each day where he will demonstrate approaches used to finish a plein-air start in a studio setting while still maintaining the energy of the painting.
Shane will start each morning with a painting demonstration using easy to understand techniques. After a lunch break, the class will then concentrate on their own paintings with plenty of personal instruction by Shane. At the end of each day, participants will gather with their work for helpful critique and discussion.
To Register: Contact Penelope at VillageArtsofPutney@gmail.com or call 802-246-7742.