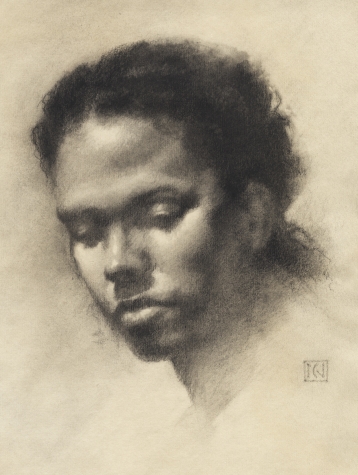 Saturday—Sunday, March 21-22, 2020 10:00am-4:00pm Tuition: $250
Welcome to one of our Putney Painter teachers, Catherine Nunn, for her first workshop At Village Arts of Putney!
Get your portraits off to a solid start by understanding the basic structure of the head and how it is the big shapes—not the details—that go into achieving an accurate likeness. As opposed to the "selective start" method where one starts from a single feature (usually the eye) and works outward, Catherine's approach is totally the opposite, working from the big shapes down to the small ones. It is the way light falls on those larger shapes that enables you to recognize someone from a distance, and getting those right is essential to achieving a likeness. Students will work from a live model in any media as long as it is in monochrome (i.e. a single color.) Mornings will consist of a demo followed by an afternoon of painting with individualized instruction.
To Register: Contact Penelope Simpson VillageArtsofPutney@gmail.com or call: 802-246-7742