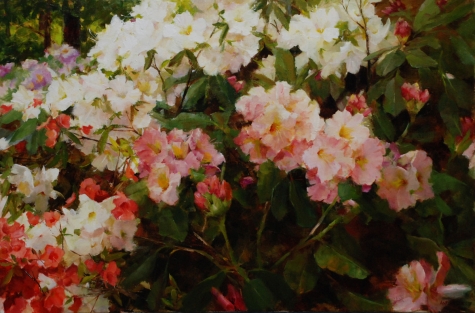 Wednesday-Friday, May 31-June 2, 2017 9:00a.m.-4:00p.m. Tuition: $395
In this three-day workshop, Kathy Anderson will provide short demos each morning focusing on composition and blocking-in a strong design. which can be confusing when painting from life in the garden. Specific emphasis will be on how to keep flowers transparent and delicate, and how to mass in leaves without too much detail. She will explain methods to keep your painting true to the feeling of a natural garden while maintaining movement throughout. In case of rain, Kathy will create an indoor garden with plants and cut flowers, and work on the same theory.
As an OPA signature member, Kathy Anderson is a nationally known, award winning artist, who has been a member of the Putney Painters with Richard Schmid and Nancy Guzik since 2000. She is an artist member of the Salmagundi Club, NY, and the National Arts Club, where she has a painting in their permanent collection. She is represented nationwide by some of the top galleries, and is much sought after as a guest artist in many prestigious national shows.
Registration: Contact Kathy directly at kathy@kathyandersonstudio.com or 203-938-2996.