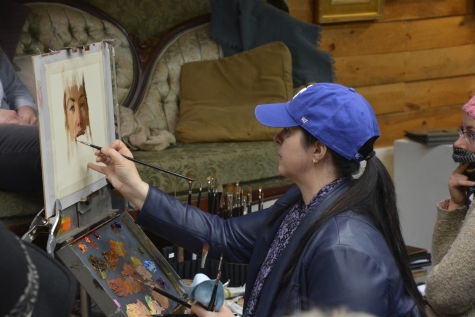 Painting Portraiture from Life & Photos with Tina Garrett
Friday- Sunday, April 12-14, 2019 9:00am — 4pm daily Tuition: $525.00
Village Arts of Putney is very excited to bring Tina Garrett back for another portrait workshop! All levels are welcome to participate in this comprehensive study of oil Painting Portraiture from Life & Photos. Tina will share her methods for achieving a likeness in your portraiture and how to make an ordinary painting a work of art. Students will learn how to pose the model, take great photos with just your smart phone and edit them so they can inspire great art. Students will learn how to choose the correct color palette and how to mix beautiful color that breathes.
Tina is an ARC Associate Living Master, a two-time ARC Salon Purchase Award winner, an International Artist Magazine People and Figures Grand Prize winner, and Oil Painters of America Online Showcase 1st prize winner. Tina is a proud Portrait Society of America Cecelia Beaux Forum Mentor and teaches annual workshops at Village Arts of Putney, The Scottsdale Artists' School and The Florence Studio in Florence, Italy and various studios across the country.
To Register: Contact Tina Garrett at www.tinagarrett.com or go to http://tinagarrett.com/payforlessons/starting-methods-for-beginning-portraiture-with-tina-garrettat-village-arts-putney.